High Kountry Airedales Site Map
Directory of website pages concerning background info, photos, grooming, etc.

Mountain working environment along Sunlight Creek drainage in the Beartooth Mountains in northwest Wyoming.
Frequently Asked Questions Traditional Black & Tan Airedales Website Home Page Black Airedales Rare Red Airedales
New Cuties Airedale Terrier History Pepper and Ranger Puppies
Photo of our Airedale, Miley, taken while working on a planned bentonite mine expansion in April of 2007. Still bearing traces of snow, the Bighorn Mountains are visible along the north-northeastern horizon. Quite a contrast from the highly sheetwashed clay deposits in the study area.
Page Brief Description
http://www.hkairedales.com/index.htm Home Page with litter announcements, photos, and background info.
http://www.hkairedales.com/New_Airedale_Cuties_with_reds.htm Photos of the latest puppies.
http://www.hkairedales.com/Pepper_Ranger_Puppies.htm Pictures of Pepper and Ranger's black & tan pups
http://www.hkairedales.com/Airedale_Terrier_History.htm Brief introduction to the breed's origins, historic background, and current occupations.
http://www.hkairedales.com/Black_Tan_Airedales.htm Pictures and descriptions of our traditional black and tan dogs
http://www.hkairedales.com/black_airedales.htm Photos of our black Airedales at work.
http://www.hkairedales.com/Red_Airedale_Photos.htm Red Airedale Photos and personality discussions of individual dogs
http://www.hkairedales.com/Frequently_asked_questions.htm Frequently Asked Questions concerning socialization, grooming, puppy shipping, etc.
We are located in northwest Wyoming roughly 25 miles east of Cody and about 75 miles east of Yellowstone National Park. Our Airedale kennel is maintained at our rural residence west of Powell. We have three, spacious dog runs ranging from 80 by 100 up to 120 by 200 feet for them to run and play in several times a day. Our dogs are our children and often accompany us to work in the field. We operate a small archaeology consulting firm specializing in contract work or cultural resource management. The vast majority of our work is conducted in Wyoming, often in remote rugged locations. Possessing considerable stamina, our dogs enjoy hiking in the scenic mountains.
For us, breeding Airedales is a very serious hobby. Females are bred once a year and sometimes less often. We have no tolerance for "puppy mills" and sell our pups to approved, loving homes. We refuse to sell to pet shops or breeders suspected of puppy mill-like operations.
Our clients are highly encouraged to contact us with any questions concerning their Airedale pups and later on adult dogs. We love receiving photos and updates on the pups as they grow up. Please feel free to call us at 307 754-3426 for more info on our dogs.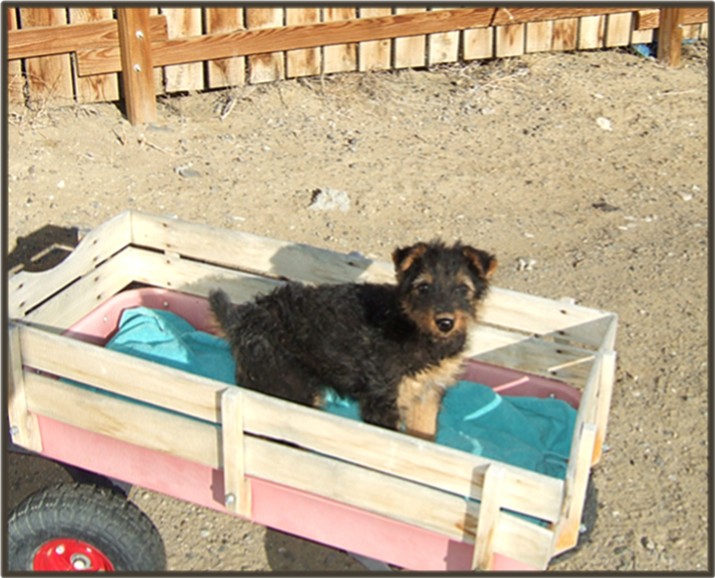 Photo of little Miley taken at ten weeks old in November of 2006. Most of the black and tan Airedale pups lighten as they mature. The tan coloration expands while the black diminishes to varying degrees. Notice the difference in coloration on Miley's face in the pics of her on the Frequently Asked Questions page. Miley is the great-great granddaughter of Roc and Fancy Girl. She is also the great granddaughter of Nevada Jake, a red Airedale.